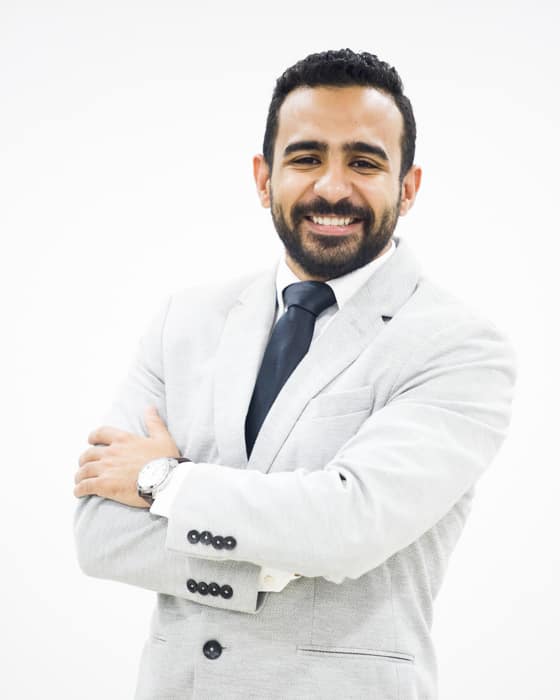 Hussein Farghaly, a graduate of Faculty of Engineering, knows the struggle and frustration of pursing one's passion. For the past 4 years, Hussein has helped many students in planning for their career, by advising them on how to explore and develop one's skills in order to avoid walking down a career path that might dim their passion and neglect their motivated skills and interests.
His story begins by graduating from faculty of engineering ASU, with a clear vision that this isn't the right field for him, aiming at shifting his career right after he finished. Through his 5 years of study, specifically in 2015, he was chosen by staff of the Employability and Career Development Center (ECDC) to join a Training of Trainers (TOT) program to be one of the trainers willing to volunteer for one year to deliver Employability Skills trainings to Ain Shams University students.
And as a kick-off to his career in training and coaching field, in 2018 he worked as a Trainer & Career Development Specialist in ECDC as a way of giving back by managing all the training logistics and content in the centre.
After a while, by showing dedication, professionalism and most importantly impact on students, he was headhunted by Aspire Training Solutions to join the Learning & Development department. In Aspire, he has trained upwards of 1500+ participant from several multinational & national corporate accounts and NGOs and delivered 1000+ training hours of Employability Skills trainings to 900+ senior university students.
In 2019, he added to his expertise by attending an ICF Career Coaching course. He has been helping students and graduates with their career planning along with resume writing, curriculum development, career advising, interviews preparation, and instructing.
SCHEDULE A COACHING SESSION